The Bluewater Recycling Association, is a leader in waste reduction initiatives not only in the Province of Ontario, but across North America as well. The Association is a cooperative of more than 20 municipalities that have come together to provide waste reduction initiatives in a cost efficient manner. Employees, the people who make our success possible, are treated with dignity, respect and fairness. The Association is committed to the highest standards of ethics in all relationships with its employees. The Association, for its part, expects employees to commit their best efforts to the Association's success, to act prudently in their use of BRA property and other resources, and to attempt in every way to uphold Bluewater's good name in all day to day business dealings both within and outside the organization.
The Association and its employees have a vital stake in maintaining a safe and healthy workplace. The health and well being of employees is a responsibility not only of management, but of everyone who works at the Association.
In all matters related to the organization of work and development, including hiring, supervision, compensation, promotion and termination, no employee will be discriminated against on the basis of age, race, color, religion, creed, sex, national origin, citizenship, language, political belief, marital or family status, pregnancy/childbirth, sexual orientation, mental or physical disability, or any other prohibited grounds of discrimination.
The Association creates an environment in which communication with its employees is open, honest and timely. It encourages feedback from employees in order to ensure a two-way flow of communication between management and all employees.
The Association compensates its employees with wages, salaries, benefits and a pension that is competitive with leading companies in its areas of business.
The customers of the Bluewater Recycling Association are of vital importance to Bluewater's continued growth and prosperity. Our mission is to provide ethical, innovative, effective, quality resource management services. We will carry out our mission efficiently, safely, and in an environmentally responsible manner, ultimately enabling our members to meet their environmental commitments.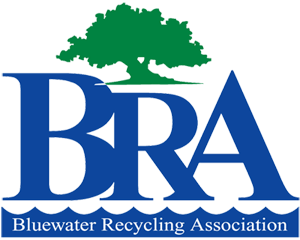 Employee health and safety is the number one concern at BRA. We strive to achieve Beyond Zero by preventing even one accident from occurring. We are committed to complying with applicable safety regulations, but more than that, safety is part of how we do business—we believe in a "culture of caring" where safety is ingrained in everything we do. Our people are our greatest asset, and we work diligently to promote your well-being.


Comprehensive health benefit plan

OMERS defined benefit pension plan

Employee perks like preferred banking rates & paid time off for birthdays

Apprentice training opportunities

Double time on weekends and holidays